I looked for a recipe after having some very tasty walnut bread with my soup at Hyde Hall, made this and think it delicious, so I am sharing. I've just had a couple of slices with butter for breakfast and mmmmmmmmmmmm . . .
The walnuts are not just a token offering, as the saying goes, they really do flavour the bread.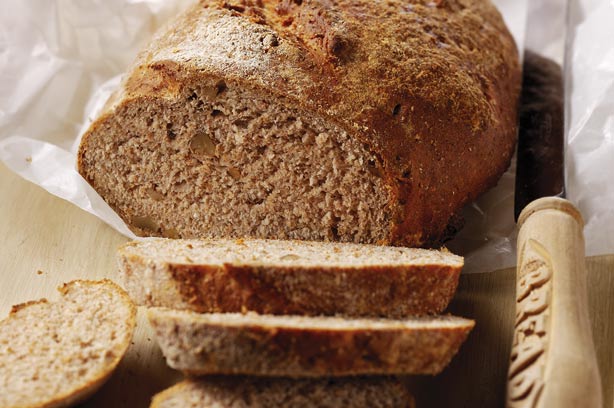 Photo taken from the site below
I found the recipe I used at
http://www.goodtoknow.co.uk/recipes/148482/Chunky-walnut-bread
I adapted it very slightly and made it in Thermione so, if you want to make it the normal way or in a bread maker, please follow the link. I used the bread maker quantities as I am wary about over loading Thermione.
The only difference was that I added the nuts
after
the ten minutes kneading, not before I thought it would be uncomfortable kneading a dough with hard lumps in it!
Oh - and I made it into two loaves, one for now and one for the Christmas freezer store. I think it will go down a real treat with the family!
So here's what I did.
Walnut bread the Thermione way.
Ingredients
350g strong wholemeal bread flour
150g strong white bread flour
1 tsp easy bake yeast - the kind for bread makers
1.5 tbsp soft brown sugar (the recipe asked for light muscavado but I didn't have any in)
1 tsp salt
2 tbsp oil (I used olive oil, topped up with veg oil because I ran out of the former. The recipe suggests walnut oil as an option)
350mls warm water
80g walnut pieces, chopped and toasted (I popped them in a a frying pan and toasted them over a medium heat, tossing them every now and again. Dead easy. Then I just cut up any whole nuts. The chunks don't have to be tiny; in fact it is better to have good sized bits!)
Method
In the Thermo bowl place the flours, the yeast, sugar, salt (other side to the yeast) and oil. Add the water.
Mix briefly, then knead for 10 mins.
Tip out onto a floured surface, flatten out, sprinkle over the chopped walnuts, roll up the dough and then just gently knead to distribute the nuts evenly through the dough.
Shape into a ball, pop into a greased bowl, smear a little oil over the top of the dough, cover the bowl with cling film and leave in a warm place to rise.
Once risen to twice the size, knock back the dough and split it into two equal amounts. Shape into an oval loaf (I flatten and roll up from each end, then turn it a quarter turn and repeat until I am happy with the shape and 'feel') and place them on a prepared baking tray - I use a Teflon liner. Smear over the loaves with a little oil - I rub it on my hands and use them as it is gentler than using a brush.
Slash three diagonal lines on top using a very sharp knife.
Cover each loaf lightly with cling film and leave to prove. It took about three quarters of an hour.
Preheat the oven to 220C.
Remove the cling film, reduce the oven heat to 180C (fan) or 200C if it's not fan and pop in the loaves.
Bake them for 35 mins. Take out, check they are done (tap on the bottom - it should sound hollow) and cool on a wire rack.
Do have a go - it is really delicious!